Discover and browse our entire catalog of agencies.
Post a new project now and find the agencies matching your needs.
Let our industry experts help you choose the best suited agency.
Browse our providers
Search through a database of 38K talented service providers and collaborate with the best for your specific needs.
Let agencies come to you
Describe your needs in a short briefing containing your requirements. Send it to agencies we suggest you and wait for their answer.
Simple, quick and agile process
Complete & up-to-date market information
Personal assistance
Learn more about projects
Our advisors guide you to the right agency
Let our industry experts help you choose the best suited agency and turn your idea into a successful business project.
Learn more about advisors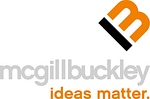 ---
McGill Buckley
Ottawa, Canada
Based in Ottawa but working with clients from all over, McGill Buckley delivers senior-level strategic thinking and attention-getting creativity.  We work in healthcare, business-to-business, healthcare, hospitality and not-for-profit.  We believe that strategically driven creativity can change the fortunes of businesses, alter the culture of organizations and make meaningful differences in people's lives. We believe that a consistent dedication to creativity can stretch budgets, improve marketing campaigns, build stronger brands and create unassailable advantages in the marketplace. We don't limit our ideas to the words, images and sounds we help create; rather, we believe that creative thinking is a vital ingredient in every aspect of our business and the businesses of our clients. What we believe Some of these beliefs were taught to us by our parents. Some were instilled in us by others. Still others we learned on our own, sometimes the hard way. All of them matter to us. In life and in our work nothing is more important than trust. We have a moral and ethical obligation to be responsible stewards of our clients' dollars. We should never take ourselves too seriously. We should always have an inherent respect for other people's knowledge, situation and expertise and should be able to expect the same in return. Positive, rewarding and honest relationships with our clients, co-workers, colleagues, suppliers, business partners and community are critically important to us. The most effective marketing and the most compelling brands come from the heart. That's not to say that we discard statistics or turn our noses up at research. It is to say that we believe the most successful way to connect with people is through stories and messages with a captivating human element. We believe in good manners and civil behaviour. We will not work with or tolerate bullies, know-it-alls, buck-passers, prima donnas, office politicians, finger pointers or dishonest people. Our suppliers are critical to our success. We will not always buy the lowest price. Instead, we will focus on the total value of what is being delivered. In our business value includes quality, service, honesty and dependability. We are not fond of working with committees, especially when it comes to developing ideas. As one of our favourite clients once said to us – "A committee can take every beautiful colour in a rainbow and turn them all to a dull and lifeless grey." We will not present speculative creative concepts to gain a new client or keep an existing one. When we do choose to give our work away free it will be to deserving not-for-profit organizations that are helping to make people's lives better. We will never take on a new client that we perceive to be a competitor of one of our existing clients. If in doubt, we will ask permission. We will never pretend to be all things to all people. We will never betray the confidences of our clients. When we make a mistake we will fess up and fix it. We should do our best to floss after every meal.
No review yet
Be the first to write one
---
Services
2 services offered by McGill Buckley
Service name
---
Related reviews
---
Starting from
---

Brand development as well as a complete suite of services in strategy, messaging and brand identity design.

Work in Branding & Positioning (1)

Client in Branding & Positioning (1)

Bruyere Continuing Care

Hospitals & Healthcare | national

---

---

Expertise in planning and executing multi-platform advertising programs.

---
---
---
---
Team
5 members in McGill Buckley's team
---
Awards
McGill Buckley was awarded 0 times
---
Reviews
No review for McGill Buckley yet
Worked with McGill Buckley?
Share your experience with us.
---
Contact
Contact details of McGill Buckley
Details
---
http://www.mcgillbuckley.com
---
Headquarter

2206 Anthony Ave, Ottawa, ON K2B, Canada
---